All the best winter training guidelines for triathletes in search of cold weather training tips for the off-season.
Here are some unique ideas for triathlon gifts for that special triathlete in your life. Plus, tips for picking out the perfect triathlon gift, based on your triathlete's personal goals and interests.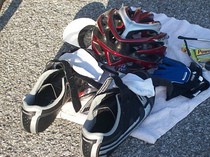 As far as cycling gear goes, there are the Must-Haves, things that are A Good Idea, and items that Would Be Nice. The most basic necessities for all cyclists fall under the Must Have category and they are all covered here.