This post may contain affiliate links. If you buy thru these links, we may earn a commission at no additional cost to you.
---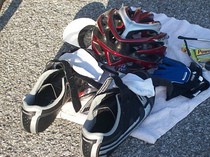 There's no way around the fact that it starts adding up on the financial end as you knock things off your bike gear shopping list.
I've created a cycling checklist with 3 categories:
Must Have
A Good Idea
Would Be Nice

Let's start with the cycling Must Have list:
#1  Bike
I've already discussed at length the basics regarding a road bike vs triathlon bike and a used bike vs new bike.
#2  Helmet
Helmets are required by USA Triathlon rules. You can even be disqualified for simply sitting on your bike with your helmet unbuckled.
Like most gear, the higher quality helmets cost more. Don't assume the bike helmet hanging in your garage from when you mountain biked 8 years ago is sufficient.
There are 2 helmet options for triathletes:
There are mixed opinions about how much of an advantage an aero helmet is over the road helmet.
Bike helmets basically come in 3 categories, and are more expensive as you move up from: entry level helmet, to middle range, and top-end.
I have a middle-range road helmet. I could tell a big difference in the air-circulation in the middle-range helmet over the entry-level one, but not as much from the middle-range to the top-level helmet.
There are a variety of road helmets to choose from. Some of the common ones are: Bell, Giro, Limar, and Louis Garneau.
Here's a review of a Limar helmet.
#3  Cycling Shoes
Cycling shoes and clipless pedals are the preferred choice for most triathletes.
Here are my tips for biking with clipless pedals for the first time.
#4  Even More Stuff
The other "must have" items include:
Yikes, that's just the "Must Have" list, and chances are I forgot something!
Take a deep breath: breathe in… breathe out… breathe in… breathe out.
I'm over 40 years old, but I don't give up easily. It wasn't too long ago that I was exploring the idea of doing my first triathlon. If I can do it, you can too! I'm proof that with a little determination and training, you can get a great deal of fulfillment participating in marathons, triathlons… even ultramarathons.