This post may contain affiliate links. If you buy thru these links, we may earn a commission at no additional cost to you.
---
It's that time of the year again!
With Christmas just around the corner, a lot of people are thinking about the perfect gift for the special triathlete(s) in their lives.
It's also that time when people may be asking you, "What do you want for Christmas?"
What follows are some gift ideas for triathletes, including suggestions you might offer others who want to give you a meaningful gift.
Since a lot or triathlon gear and accessories are cheaper to purchase online, you'll want to get started ASAP!
Before You Start Shopping…
Let's begin with a few quick helpful guidelines in terms of selecting a gift for the triathlete in your life:
Be observant
Become familiar with the triathlon gear and accessories choices the person is already making. A colossal mistake would be to buy a canister of sports drink or other sports nutrition products that are not the specific kind the person uses. As you know, triathletes are picky about this sort of thing. I would love some new pairs of athletic socks, but there's a particular brand and type I prefer.
Be creative
There's always new stuff, and it's a great gift idea to surprise someone with a tri gift that perhaps they haven't thought or. For example, as part of an award package I received from a triathlon event I got a pair of Stuffitts. At first I was like, "Huh??? What the heck are these for?" But then I started using them, and I'm so glad I got them. This is the kind of thing a triathlete may not go out and buy for themselves, but would make a great gift they would enjoy receiving. You can browse online or make a call to your local multi-sports store to find out some of the latest and greatest triathlon stuff that is available.
Think outside of traditional product

There are awesome triathlon gifts that aren't products you eat or wear. A gift certificate for a sports massage, a subscription to Triathlete Magazine, or a gift certificate to a local health or organic food store may be the perfect choice for the triathlete you are buying for. There are also many triathlon DVDs ranging from training DVDs to more general DVDs about the sport. What about a ticket to a major international triathlon event? It's a chance to see the major names in the sport and perhaps pick up some tips. Or, how about picking up the tab for the entry fee for a triathlon competition? Another thoughtful gift might be sneaking away one of their triathlon photographs and framing it.
When in doubt

If you're not sure about a certain triathlon gift you are considering, it will be better to ask the person involved. Don't rule out the possibility of a gift card to a multi-sports store or online triathlon store. Let's face it, you can't go wrong with a gift card; people love them. It's fun browsing and choosing for yourself.
Triathlon Gift Ideas In Various Price Ranges
Obviously, you must determine how much you are going to spend on your triathlon gift.
Following are a few suggestions to prime the pump in various price ranges. Keep in mind that some of the gifts (especially the high-end gifts) might require some collaboration between you (the gift giver) and the gift receiver.
Stocking Stuffers ($2-$10)
Mid-Range Gifts ($10-$25)
High-End Gifts ($25-$125)
Top-End Gifts ($125-$350)
Mega Gifts ($350-$1000)
Long-Term Gift Investments
Think Outside The Box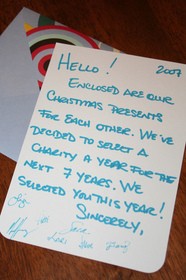 Another perspective on this whole gift-giving gig for your beloved triathlete is to go the other way and give something other than a triathlon-related gift.
Triathletes can sometimes get too focused on triathlon, and it practically becomes their entire life. Maybe a different kind of gift would help put a little more welcomed balance into their lives. Consider what other interests or hobbies they might have. What about a new CD of their favorite music artist, movie tickets, a book on another subject of interest, a gift card to their favorite restaurant, or a bag of their favorite coffee.
Sometimes, simple expressions of thoughtfulness go a long way. The holiday season can be stressful for the triathlete. It's that time of year when all those sweets and goodies are everywhere you turn, and yet the triathlete can be conflicted because they are especially concerned about issues of diet and nutrition. A thoughtful remedy may be to have some tasty but healthier goodies around like popcorn, trail mix cookies, or fruit smoothies — to name a few.
The holiday season also seems to put a focus on faith, family, compassion and spirituality. In recent years, much has been written about triathlon as a sport of body, mind, and spirit. Perhaps a gift that promotes the spiritual interests of your beloved triathlete would be perfect.
I'm over 40 years old, but I don't give up easily. It wasn't too long ago that I was exploring the idea of doing my first triathlon. If I can do it, you can too! I'm proof that with a little determination and training, you can get a great deal of fulfillment participating in marathons, triathlons… even ultramarathons.