This post may contain affiliate links. If you buy thru these links, we may earn a commission at no additional cost to you.
---
I used to be a long-distance cyclist. Not a great one. Nor a fast one. Just an average one — who had a ball every time my wheels were spinning.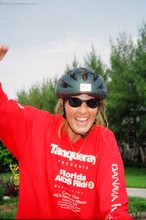 When I lived in Florida, I would ride 20 to 60 miles several times a week, a few Century rides (100 miles) each year, and on many weekends I would pack up my lightweight camping gear and participate in 2-day cycling events.
In one of my last bike logs (where I logged by cycling habits for years), I jotted: "20,000 miles on my car this year, and 4,000 miles on my bike." That's in one year. I was a diehard cyclist, that's for sure.
I did several bike tours and biking trips. My most challenging cycling event was a 3-day 300-mile bike ride from Orlando to Miami. I did it 2 years in a row and had the time of my life. (And made a lot of great friends.) Truth is, I've never enjoyed life quite as much as those days when I was cycling regularly.
Fast-forward to today. And even though I've biked a bit around here since we moved to Tennessee, as I kept getting busier and busier, I kept pushing my bike farther and farther into the corner of our garage.  (UPDATE: I've tuned up my bike, brought all my gear out of hiding, and I've started biking semi-regularly again. I generally bike around 30 miles a day — up to 60 miles on a good day. I plan to do long-distance rides again in the near future.)
I Haven't Biked In Many Years
So now, here it is 5+ years since I've been on a bike at all, and I'm finally itching to get back into cycling again. I have the time. I need the exercise. I enjoy the outdoors. And there are few things in life more empowering (to me).
Actually, Jim P. (a triathlete) has been motivating me to get back into cycling again (even though he doesn't realize it, and we've never even met).
So yesterday I decided to step away from the computer for more than an hour and take the bike out for my first ride in over 5 years. (Ha. As if! Yep, I actually thought I'd "just air up the tires and take it out for a quick spin". That is… if my lycra bike shorts still fit!)
Here's how it went…
Re-Entering The Sport Of Cycling
After I managed to move everything in the garage that was trapping my bike in a deep, dark, spider-webbed corner (I think the less I "saw" it, the less guilty I felt about not riding it), my beloved, very unique-looking bike (more on that later) just sat there looking cold and flat… literally.
If a bike could have expressions, mine was "lifeless". The tires were flattened to the ground. Cobwebs were wrapped around the chain, the spokes, and the handlebars. And the cover of my favorite "cushy" seat had been ripped (not so much that I can't still use it though).
So I spent a bit of time cleaning my bike, airing the tires, and getting it "ready" to ride again.
Just know this… A bike that sits in the garage for many years without being ridden goes through a transformation of sorts that must be addressed before you step foot on the bike and intend to ride again.
How do I know?
As I was airing up the tires, I started to hear cracking and popping inside the tires as each tube was inflating. On closer inspection, I noticed the sidewall of the tires — near the rims — were cracked and flaking as I touched them. High temperatures and non-use had paid their price on my trusty ol' rubber tires.
The same thing happened to my bike rack a couple years ago. I had stored it in the attic "temporarily" (for years), and when I was moving something around, I noticed the thick rubber straps that keep the bike on the rack when it's attached to your car had become so brittle in the high heat that they literally broke off… yep, thick pliable rubber straps. It was a very sad moment. Because that was a nice bike rack.

I Can't Wait To Start Cycling Again
So now a trip to the bike shop is in order to get a new set of tires and tubes (and maybe a bike rack). It's the smart thing to do anyway, but I was just trying to get a few trips around the block in before I went to this extent.
My (new) goal is to actually make it to the bike shop before Fall comes around and I find a million-and-one OTHER excuses for not riding!
…I guess I'll address the oh-so-tight bike shorts later!
I'd love to get back into things like biking on the Natchez Trace Parkway, participating in across-state bike rides, and just enjoying the outdoors on leisurely rides to nowhere again.
Next up: I'll be sharing some (hopefully motivating) tips for newbie cyclists, or those who — like me — are thinking about re-entering the sport of cycling again after a long hiatus. In my days as an avid cyclist I actually did a few things right… including picking out the right bike gear and learning how to conquer hills!