This post may contain affiliate links. If you buy thru these links, we may earn a commission at no additional cost to you.
---
I'm not a triathlete — just a long distance cyclist who enjoys biking for the fun of it.
It's also a great way for me to stay in shape!
I share my newbie biking experiences here with the aim of helping to motivate other newbies, in much the same way that I've been motivated through the years by fellow cyclists (and triathletes, like Jim).
Maybe you're interested in riding a bike for the first time in ages. Maybe you're eager to start biking regularly and adding more miles onto each trip. Perhaps you're thinking of participating in some long-distance rides or even multi-day cycling events (my favorite).
Whatever your cycling goals are, I hope that you enjoy these photos and highlights from some of my own cycling experiences!…
Lynnette's First Attempt At Long-Distance Biking


Itching for sometihng to do with my free time in Orlando, I bought this very heavy, very blue, mountain bike with fat tires from Sears. I didn't have any idea what to look for in a bike. I just knew I wanted to get out and about. My parents raised me on Sears products, having high regard for their quality and their warranties. So I headed straight to Sears… (NOT a recommended move for any of you future bicyclists out there!)
First Biking Buddies


Laura and Vic, co-workers from UCF, were my first biking buddies in Orlando. Laura and I were both in search of some extra-curricular activity, so we started riding every weekend together. Soon after we started riding, we heard about a meeting for cyclists who were interested in participating in a 3-day ride for charity. We were both gung-ho for this idea, so we went to the meeting. Turned out, it was the first annual Florida AIDS Ride. It required 100 miles a day for 3 days of pedaling from Orlando to Miami. We were in! Here, we're "in training" — biking the hilly, backcountry roads of Orlando.
Lynnette's New Lightweight Trek Road Bike


First thing that was obvious: If I was going to participate in a 3-day bike ride, 100 miles a day, I needed a lighter weight bike to help me go the distance. Laura and I went to Orange Cycle in Orlando, and we each shelled out nearly $500 for new bikes. What were we thinking?! To this day, I still have my Trek 730 hybrid, and I still love it dearly. I would have a hard time riding any other bike, as this one is so "custom" made for me. P.S. The bike fit perfectly inside my tiny little Saturn!
We're In This Together


My first biking buddy from Orlando. Laura and I both started out with very "heavy" clunker bikes from Sears. We both traded them in for "real" bikes from a bike shop. The result of our lighter-weight-bikes-with-thinner-tires purchase: all of a sudden, we LOVED biking! We biked each and every weekend, plus some!
Friends We Biked With On Occasion


Biking was such a great way to make friends… especially when you're 30-something, single, and living in Orlando Florida! These were some friends-of-friends that we "drafted" most of the ride.
We're In Training


This was our core group of Orlando area riders in training for the AIDS Ride. Most of us were complete beginners in cycling, and had never dreamed of anything like tackling 300 miles in 3 days. As a group, we met weekly and rode up to 75 miles a day. A few of us hung together and we'd get together on our own to ride another 25-50 miles. And, we each had 6 months to raise $1,400 in donations. I was shocked that 50 people believed in me enough to turn this dream into a reality!
Emotional Finish: Florida AIDS Ride 1


Many months of training finally paid off, as I crossed the finish line in Miami with the rest of my biking friends from Orlando. We rode 100 miles a day, and stopped at a pre-arrange camping location (usually county fairgrounds) each night. When we arrived at camp, we had to find our luggage that had been transported via semi's and arranged according to "color" for us to locate. We camped in pairs in 2-person tents, and we showered in community showers that were actually portable units on wheels (lined up inside special semi's). There were 800 of us on this cross-state bike ride. All-u-can eat meals were provided for us 3 times a day, plus healthy snacks along the route, and a party each night with live entertainment. It was so much fun, I signed up for the next year's ride too!
Biking Every Weekend


After the first Florida AIDS Ride, I was hooked, and cycling became a way of life for me. I lived cycling, breathed cycling, and would have rested in peace if I'd have died cycling. I rode every weekend — sometimes with friends, sometimes by myself. For awhile there, I was signing up for 2-day bike rides in all-points Florida. I would pack up my bike & tent & head for whatever city was having a local ride that weekend.
Me and My Shadow


I took this picture of myself (er… my shadow) while cycling on a road by myself. Cool, eh?
Biking & Camping… Solo!


When I lived in Orlando, I was so addicted to cycling that I rode almost every weekend of the year somewhere in Florida. I usually packed up all my gear and headed to a new destination each time. Here I am in my tent… next to my biking shorts hung out to dry.
Refueling at a Biking "Pit Stop"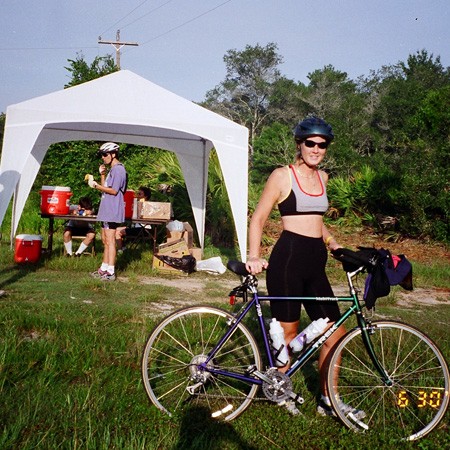 This is an example of a "pit stop" that they have for you along the way on organized bike rides. Pit stops are usually spaced every 10-20 miles, allowing you to refuel with high-carb snacks and fluids.
The Port-a-Potty: A Modern Convenience To A Long-Distance Cyclist


Example of some of the "inconveniences" associated with cycling: port-a-potties! You definitely get used to the "simpler" things in life as a cyclist, as there are very few "luxuries" to be had on these organized rides. There's no room for modesty here. Although, they do offer free or cheap full-body massages at some rides. And after 5-8 hours of biking in the hot sun, the thought of relaxing on a massage table while someone caters to you for a change is often the carrot that propells you to finish the long day's ride with your head held high.
Flat Tires Are Quite Common


As long-distance cyclists, the thinner the tires, the better (for getting around fast and with the least amount of effort). But, the thinner the tire, the more likely you are to face a flat tire during routine pedaling. So rule #1 is: Know how to change your own flat tire! I (and some of my friends) "cheated" though… by carrying little pressurized air cartridges in our bike bags, which makes airing up after you change out the tube a cinch! The really serious cyclists wouldn't be caught dead changing a flat without manually using a plunger-like air pump to air up their tires. Even though cycling was such a big part of my life, I always kept it in perspective and did it just for fun. I'm certain that I've been laughed at many times by the "true" cyclists out there, because I have all the nifty little gadgets, and I've customized my bike in such a way that I stick out like a sore thumb when I'm riding. (and I still use a kickstand!)
I Finished With A "Bang"


On the Florida AIDS Ride 2, I actually got two flat tires! One was simply along the regular route during a day's ride. But the other one was just minutes before I was to cross the finish line! It was a high-pressure moment when we had just been handed our colorful jerseys, and we had about 15 minutes before our section of riders was being escorted from Miami's South Beach to the actual finish line area where photographers and the press would be. Everyone was chanting loudly and cheering me on as I changed my flat tire, finishing just seconds before our group was told to "ride on to the finish line now". I finshed this ride with a "bang"!
The Exhiliration of Crossing The Finish Line


It was pure exhiliration crossing the finish line at the 2nd annual Florida AIDS Ride. This year there were 1,000 cyclists en route from Orlando to Miami. Again, I had raised $1,400 in donations, survived 2 flat tires, had only half the friends from Orlando join me on this ride, and finished in record time (for me). Completing something as strenuous as 300 miles in 3 days on a bike is an experience that's hard to beat.
Our First Time Biking Together


Jim knew Lynnette was way into biking, so he went out and bought himself a bike and had been prepping himself for a "long" bike ride with Lynnette soon. This was the day. We loaded up the bikes and drove to Jacksonville Beach (where Jim lived) for a leisurely bike ride. We tried biking on the beach, but our thin tires weren't up for the challenge. So we rode all around the beach on some of the less-traveled roads. It was fun. Very picturesque. And Jim thought he might enjoy biking as much as Lynnette did.
Jim's First Bike Ride With Lynnette


Jim had been riding a bit on his own before joining Lynnette for a full day of biking on this day. Here, Jim's trying out the biking on Jax Beach. His tires were a bit wider than Lynnette's, making beach riding easier for him. But we both owned "road bikes" rather than "mountain bikes", so we decided to stick to the streets.
Beaching After Biking In Pensacola


We were so fortunate to live on an island (Gulf Breeze) near Pensacola. We lived just minutes from this biking paradise — the pristine, lightly travelled road that runs along Pensacola Beach. One of the benefits of biking in Pensacola: You can always stop and cool off with a quick swim in the ocean!
Solitude… Biking Along Pensacola Beach


Jim enjoying a long bike ride on the road that runs parallel to Pensacola Beach. Pure solitude (except for a seagull or two swooping down at you!)
Enjoying The Ocean View From Pensacola Beach


Pit stops when biking in Pensacola include stops to take in the ocean view, smell the sea-salt air, and refuel with snacks packed in our bike bags and gatorade in our water bottles. Here, Jim's enjoying one of our many pit stops…
Wheels And (Flat) Tires Are What Biking's All About


This was the day Jim started to lose interest in biking. The reason: He kept getting flat tires! Here, he got two in one day. But he changed them both like a pro, and he (reluctantly) rode on.
Jim's Day of Flat Tires: #1


This was the day that pretty much ruined the joy of biking for Jim. On this day he got five (5) flat tires! This is the first in a series of 5 photos documenting his very frustrating biking experience.
He's Still Being A Good Sport At This Point


Still being a good sport at this point, Jim's changing flat tire #2 along the side of the road.
Who Ya Gonna Call?


We should've stopped right there and called it a day. Phoned a friend. And gotten on with our day. But we didn't. Jim was determined to conquer the repeated flat tire fiasco, blaming himself each time for not putting the tube on right. Or not airing up properly.
Are We Having Fun Yet?


Biking stopped being fun for Jim somewhere around flat #3. Or, wait a minute. Maybe this was actually flat tire #2 the weekend earlier! Poor guy.
You Can Run, But You Can't Hide


Thinking he's escaped the camera on this one, Jim tries to find some solitude behind a garbage dumpster while changing his fifth (and final!) flat tire of the day. How cruel that Lynnette was actually there to document the entire process on film… Each tire pop. Each frustrating grimmace on Jim's face. Each location. The only thing she couldn't capture on film were all the 4-letter words!
The Ups & Downs Of Cycling


Sometimes (rarely) there are more downs than ups. Unfortunately, we ran out of our handy-dandy air cartridges a few flat tires ago. Luckily, for the last few flat tires, there was a gas station nearby, so we could use their air machines. (And a phone in the end, so we could call a taxi to drive us and our bikes home!) By the way, it took 2 separate trips to the bike shop to eventually find out what was causing all of these flat tires. The first guy suggested the tube kept getting pinched by the wheel. Thankfully, we got a 2nd opinion… The guy at the 2nd bike shop spent a good deal of time examining that tire inside and out, before he discovered a small shard of glass that was wedged deep within the lining of his tire. It had nothing to do with the bike tubes, or the amount of air in them. Regardless, Jim hasn't really been interested in cycling much since this day.