This post may contain affiliate links. If you buy thru these links, we may earn a commission at no additional cost to you.
---
As the sport of triathlon continues to grow in popularity, more and more triathletes are organizing themselves in ways to enhance their experience and improve their performance. A triathlon club is one way of doing this.
I'm in the process of starting one myself.
A triathlon club consists of a group of triathletes who intentionally associate together in ways intended to aid in their triathlon training and the accomplishment of their triathlon goals.
A triathlon club can be designed specifically for newbies or the most experienced triathletes. Most triathlon clubs have a mix of both.
 
Benefits Of A Triathlon Club
Having a social connection with others who share a passion for the sport of triathlon
Drawing upon the collective experience and knowledge of other triathletes.
Mutual support and accountability for accomplishing triathlon goals.
Group training sessions such as planned open water swims, which is especially critical since you don't want to do open water swim training alone. Also, group bike rides and runs, or group brick sessions such as swim/bike sessions or bike/run sessions.
Knowing other triathletes, which also provides opportunity where desired to pair up with a training together however desired. Group training or partner training helps build confidence and give you that added push toward reaching your full potential.
The added fun and challenge of representing your tri club in triathlon events, or putting together triathlon relay teams with fellow club members.
Tips For Starting A Triathlon Club Yourself
Perhaps the easiest way to organize a triathlon club is to do so within a fitness center where you are currently a member. Many fitness centers would welcome having a triathlon club and would consider it as a value-added opportunity for their members.
For example, I am right now in the process of starting a triathlon club at my YMCA. I began meeting other triathletes at the Y, and also had some people tell me they would like to get into the sport of triathlon but needed help getting started. After meeting with a YMCA staff member, we decided the club will be open to all members who are triathletes, but it will especially target newcomers. The YMCA is going to promote the club within the Y.
Guidelines For Organizing A Triathlon Club
Determine the general guidelines and plan for your club. Who is the club aimed for? Experienced triathletes or newbies or both? Is it co-ed or a women's-only tri club? Think through your expectations for starting the club.
Ask members what motivated them to join the club, and how they hope to benefit for being a part of the group. Allow members to share their triathlon goals.
Create and use a survey with group members in order to access their triathlon experience levels. The survey should also be aimed at determining the best times for club meetings and group training sessions.
Consider combining a monthly "club meeting" with a group training session. For example, perhaps once a month there is a planned club bike ride. Have your club meeting before or after the ride, as opposed to a separate time.
Create a club calendar that includes club meetings, group training sessions, and any other club events or news. Have a club blog so members can access all the relevant information online.
Draw upon the collective experience and knowledge of group members. Ask other experienced triathletes to rotate the responsibility of briefly addressing a relevant triathlon topic at club meetings.
Register your club with the USAT; there are some benefits for doing so.
Explore other triathlon clubs and see what other clubs do. Don't get overwhelmed. Start small, and let it evolve. 
Ways To Make Your Club Successful
Be sure to establish the proper expectations for your club from the get-go. For example, what is your role as the group leader? Are you mainly a facilitator, or do you want to operate as an official triathlon coach? If so, do you plan on offering your coaching services at a cost? Will this conflict with your fitness center? In my case, I wanted to be a facilitator but not a professional coach. I did not want to set up the expectation that it was my responsibility to individually coach group members.
Another example would be a group member who is not confident about their swim stoke. Are you at that point going to become their swim coach? I decided I would handle this particular issue by sending the club member to a YMCA swim instructor. At our YMCA there are all kinds of options for swimmers to work on their technique and join a Masters Swim Class.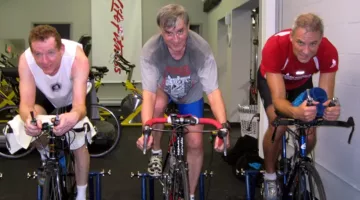 Take advantage of relevant opportunities at your fitness center. There's also a Cyclists Yoga Class at our Y, which could be a perfect opportunity for members of your triathlon club. We also have spin classes that are a helpful resource for newbies and as a bad-weather cycling option.
Be creative, and look for opportunities to benefit group members. For example, would your local bike shop or multi-sports store be willing to give your club members a discount on gear? How about an annual tri club party? Would representatives of triathlon gear or triathlon nutrition products visit your triathlon club to give a brief presentation in exchange for some free goodies for group members? Is there a cause or charity that your triathlon could become involved in or represent in some way? Create a club jersey that group members wear when doing triathlon events.
Some of the best ideas will come from group members, and don't hesitate to allow group members to put their ideas into action. Don't allow the expectation to set in that you do everything. Most of all, have fun with it!
I'm over 40 years old, but I don't give up easily. It wasn't too long ago that I was exploring the idea of doing my first triathlon. If I can do it, you can too! I'm proof that with a little determination and training, you can get a great deal of fulfillment participating in marathons, triathlons… even ultramarathons.