This post may contain affiliate links. If you buy thru these links, we may earn a commission at no additional cost to you.
---
Ginger, a fellow 40-something female who (like me) was eager to start biking again after many years away from the sport, recently emailed me:
I am really, really interested in buying a new (used) bike and getting into biking.  I think it would be a great activity for me and my daughter to do together, as well as much needed, non-weight bearing exercise for me. All of that said, can you recommend some good places to seek out a decent used bike?  I'm a single mom who doesn't have a large budget.
Following is the information I shared with Ginger (…who, by the way, found a cheap bike really quickly and has been biking regularly ever since).
Hopefully, this will help others who are considering getting back into cycling as well.
Cheap bicycles are relatively easy to find — if you know where to look!
How To Find A Free Or Cheap Bike
To find a budget-friendly bike, I would try these first:
To keep tabs on all free and low-cost things that appear on Craigslist for my area, I subscribe to the RSS feeds for "free stuff in nashville" and "general for sale in nashville".
If you're not in a hurry, you might just keep your eyes on those feeds for free or cheap bikes that are posted occasionally.
I also signed up for the Freecycle email list for my area (several years ago), and I've given and received a lot of items for free!
I'd say that bikes aren't nearly as popular as say, computers and kitchen items — but you'll see a listing for a bike every once in awhile.
The best part about Freecycle is that everything is being given away for FREE. (And no… things usually are not in crappy condition. I've been quite impressed with the many treasures I've found through Freecycle!)
Another good thing about Freecycle is you can post "WANTED: A Bike" — mention some of the features you're looking for (or don't limit it at all) and you're likely to get emails from a handful of people who have been contemplating cleaning out their garages and passing on their bikes — for FREE.
Used sporting goods stores (or consignment stores that only sell sports items & outdoor equipment) would be a great place to check for a gently used bike.
My favorite is Play It Again Sports — they have stores all across the U.S.
All bike shops have a bulletin board somewhere in the store where people post bikes for sale, bikes wanted, etc. I would check there. Be sure to take a thumbtack with you, so you can easily post your own note describing that you're looking for a basic women's (or men's or children's) bike.
Be honest and to-the-point in your description, such as "nothing fancy (or expensive)" — because some of the bike postings found in bike shops will be for the more expensive bikes used by serious cyclists.
Both eBay and Amazon have an amazing section of new and used bicycles online!
Personally, I would start with used bikes on Amazon under $100, then check out the used bikes on eBay next. From there, it's easy to compare the price for those same bikes in brand new condition. And, who knows, you might find that it's worth it to you to spend a few more dollars to buy the brand new version.
On both Amazon and eBay, you can get as specific as you want with the search filters. For example, you can even set an exact price range — as well as the brand, wheel size, mens/womens/unisex, and type (cruiser, road bike, mountain bike).
You really need to be patient if yard sales and garage sales are your chosen method of obtaining a cheap bike. Unfortunately, bicycles are few and far between at garage sales.
So, unless you make a habit of visiting yard sales quite regularly… this option could take awhile. It's a fun process though — and you'll eventually find bikes dirt cheap this way!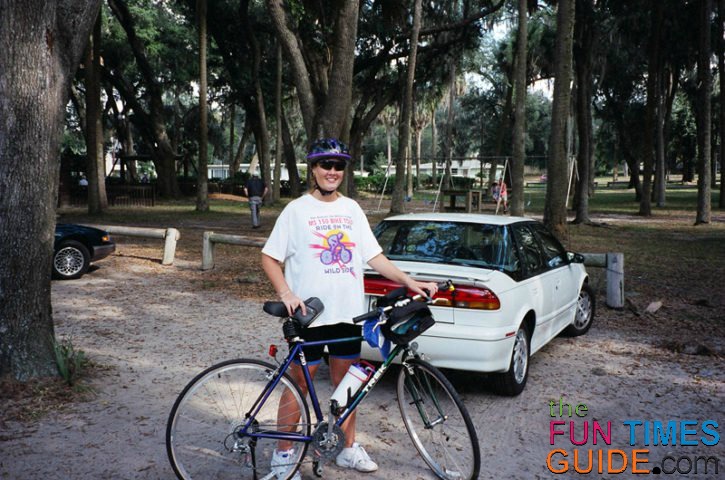 So, if you're searching for a new "gently used" cheap bike, I hope the above information helps a bit.  Hopefully, you will be able to find a bike and start riding soon.
Bicycling is tons of fun. And you don't have to be serious about cycling and going fast in order to truly enjoy it. (That's my favorite part.)
The photo above is me when I started cycling regularly back in 1995. My passion for cycling hasn't stopped since!
Must read: How To Shop For A Bicycle: Online vs. In-Store