This post may contain affiliate links. If you buy thru these links, we may earn a commission at no additional cost to you.
---
Running isn't inexpensive, especially ultramarathons.
Running shoes, race registration fees, headlamps, tents, nutrition, fuel and hydration items, and other running gear & apparel… it adds up!
And yet I have found 5 fairly inexpensive items that have helped make my races go more smoothly.
You know those race number bibs you get at every race? The ones with safety pins that are a pain to attach to your clothing? The ones you have to wrestle to unpin and re-pin every time you change your running clothes – which you do in the longer ultramarathons? You know… those race number bibs that tear and get all messed up when you are running a trail in the rain and mud? There's an easy solution to this: a race number belt.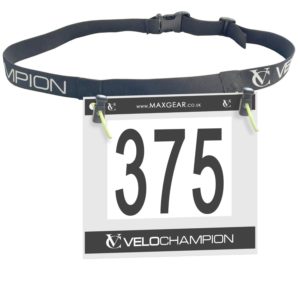 You just easily attach the bib to the belt and you never have to unpin and re-pin anything. Especially for long-distance and multi-day ultramarathons, it's a very worthwhile and low-cost investment.
Running in the heat means lots of sweat. Rather than having sweat continuously dripping down your face, soaking your shirt, dribbling down your legs into your shoes and irritating your eyes and contacts, why not just purchase a moisture wicking headband like a Bondi Band.
Of course there are differences of opinion or preferences about whether a cap, visor or headband are best for running. While it's true that a cap or visor may keep the sun out of your eyes, the brim of a cap or visor can fill up with sweat as well. Wearing a headband and running sunglasses is an option to consider.
So, you go for your run, get home, and take your wet & sweaty running shoes off and stick them in the corner. You do this… over and over and over again. Eventually, your running shoes start to stink and the constant moisture in your shoe reduces their lifespan. The solution: Stuffitts.
Stuffitts are patented drying inserts, which use processed natural cedar fill to remove moisture and kill odor in your running shoes. They work immediately upon contact. They're moldable and form-fitting, and easily insert into your running shoes with maximum surface area coverage. Presto! No mess, no fuss, no stink. They completely eliminate and control shoe odor and extend the life of your running shoes. Here's one runner's review.
You run a 50k or 50 miles or 100 miles or more. Your run (or race) is over, your feet are killing you and… you keep those same running shoes on your feet until you get home. Once home, you go barefoot to give your feet some relief and inevitably it's necessary to put shoes on again – on those sore and aching feet. More than any part of the body, it's an ultra-runner's feet that deserve care and attention. Do your feet a big favor and get a pair of recovery sandals.
Recovery sandals are footwear designed specifically to pamper your feet after long runs. They are specifically designed for runners to provide the most comfort before or after a run to promote recovery of sore and tired feet. A good pair of recovery sandals are like super comfortable flip flops. Recovery sandals by PR Soles have "acupoint" soles that massage your feet as you walk. They're lightweight, breathable, waterproof, and the unique foam-cushioned soles provide a massaging comfort to your feet. It's worth it. You'll thank me.
There is inspiration for our journey as runners in hearing the extraordinary stories of others who are out there doing. Specifically, there are 2 running documentaries worth watching – which you can purchase or download for under $30:
In the High Country – a running documentary chronicling the mountain life of elite ultrarunner Anton Krupicka. The documentary is the result of a year-long collaboration between filmmaker Joel Wolpert and mountain-runner Anton Krupicka. You can read a detailed description and review of the film here.
The Barkley Marathons – a tiny town in Tennessee is the most unlikely of places you would expect to find the hardest trail race in the world. In its first 25 years only 10 people have finished The Barkley Marathons. This documentary is about the race, and worth the time for every runner to see it. You can check out a review here.
These are a couple great films for every runner to watch on their day off. Watch both of them!
I'm over 40 years old, but I don't give up easily. It wasn't too long ago that I was exploring the idea of doing my first triathlon. If I can do it, you can too! I'm proof that with a little determination and training, you can get a great deal of fulfillment participating in marathons, triathlons… even ultramarathons.