This post may contain affiliate links. If you buy thru these links, we may earn a commission at no additional cost to you.
---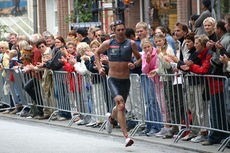 I just returned home from a triathlon trip; I competed in an
Olympic distance triathlon
a few hours from where I live.
With it fresh in my mind, what follows are some tips regarding race day of your triathlon, including what to pack and how to prepare the night before the event.
Arrive Early
If your triathlon event is a couple hours away or more, your first decision is when to arrive.
Most triathlons begin around 7:30 a.m. but you typically want to arrive at least an hour early to pick up your registration packet, get marked, and set up your transition area.
In my opinion, traveling a few hours and doing all your set-up and preparation on race day morning is too much. One wrong turn with your travel directions or a long line of cars fighting to get in on race day morning can raise your anxiety levels.
If possible, arrive the night before and plan to spend the night before. By doing so, you can pick up your registration packet the night before, get a preview of the triathlon course, and get familiar with the whole picture.
Arriving the night before will also give you the opportunity to check out your tri course in detail. For example, this past weekend at my triathlon I drove the bike course in my car to get a feel for how hilly it was. I also went down to the lake and checked out the swim venue and the configuration of buoys in the lake.


What To Pack:  Meals & Snacks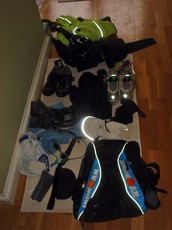 Before you leave, check 3 times to make sure you have packed
everything you need
for the triathlon event. If you forget something; don't freak out. Normally, triathlon events will have multi-sports stores present selling items you might have forgotten.
Don't forget to pack certain food items if you are unsure about whether you will be able to find them where you are staying. The rule of thumb is to do what you always do at home, and change as little as possible while on the road. For example, I always bring bottled waters, bananas, a stash of snack items I eat at home, a box of my favorite cereal, even packets of Splenda for my morning coffee since many hotels still use the pink stuff.
Since you will be on the road, think through your meals ahead of time. Your night-before meal needs to be high on carbs. So, don't be swayed into doing something different just because the "buffet" at your lodge is an all-you-can eat fried catfish deal. Order off the menu and get spaghetti if you have to (buffets always have spaghetti). This isn't the night to start experimenting with stuff you normally don't eat.
The triathlon I just completed was in a State Park. The lodge restaurant did not open for breakfast in time for me to eat and be at the event when I wanted to be. There were no other restaurants around. So, I was on my own for my pre-race meal (breakfast),  which was no biggie because I figured as much and had my own food to eat.
Stick To Your Routine
Do whatever your training and preparation tells you to do.
Maybe your preparation involves a rest day before your event or a light morning session the day before. People do different things. Just because you see other triathletes biking around the evening before doesn't mean you are supposed to.
Stick with your plan.
Do your best to get to bed at your normal time, and try to have a good night's sleep. But let's be realistic here; you are not at home, and it's possible you won't sleep as well as a result. It's okay. I'm a very light sleeper, and typically I simply don't sleep as well on the road. It's not the end of the world. Your body can handle one bad night's sleep if it happens. Sometimes ear-plugs help if there's a lot of activity or noise at the hotel or lodge where you're staying.
Expect The Unexpected
Just realize that it's possible something will happen that you didn't expect.
Maybe the water is colder then you expected.

Or, your goggles fill up with water as you start the swim.

Or, someone runs into you hard in the water.

Or, you slip your chain on the bike transition.

Or, drop one of your gels on the bike ride.

Or, you start filling a cramp early in your run.

Or, your race number gets torn off.

Or…
Things happen to everyone. It's just part of it. Don't fret; remain calm. Just deal with it and keep moving.
Race Day Pointers
If it's your first triathlon, here are a few race pointers:
On the swim, just get a look at the first buoy and swim to it. When you get to it, spot the next one and swim to it, and proceed in that fashion. However often you need to, take a peek and do your best to stay on line with the buoys. Don't worry about what other people are doing around you; stay focused on maintaining your rhythm, flow, and technique. If you have anxiety and trouble breathing, calm yourself down with whatever calming measures you have decided upon. It's okay. It's not just you, most triathletes experience this.

2. Don't get enamored with trying to catch or pass people on the bike portion. Determine ahead of time what your pace should be. Check your bike computer, and stick to maintaining your pace. If you are feeling especially good in the last quarter of your ride, you can turn it on then. Remember, you still have to run.

3. Don't forget to hydrate and take your gels or whatever race nutrition you are using during the bike ride! 

4. Same thing with the run, look at your watch and seek to go at your pace. Take water or a sports drink at every aid station.

5. After the race, make it a priority to eat at the post-race food tables. In terms of recovery, it's critical to begin getting food in your body as soon as possible.
I'm over 40 years old, but I don't give up easily. It wasn't too long ago that I was exploring the idea of doing my first triathlon. If I can do it, you can too! I'm proof that with a little determination and training, you can get a great deal of fulfillment participating in marathons, triathlons… even ultramarathons.