This post may contain affiliate links. If you buy thru these links, we may earn a commission at no additional cost to you.
---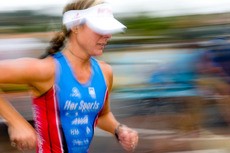 Sometimes my 9-year-old daughter Jessica will give me her 5-word lecture on the way it is. She says, "Dad, girls rule, boys drool."
In many ways this applies to the sport of triathlon. Some of the most successful triathletes in the world are women, and women are fueling the growth of the sport of triathlon. It's likely that the 2008 Summer Olympics will spark more interest.
There are an increasing number of triathlon resources just for women. To get you started, take some time and explore the following areas:
1. Triathlons for Women, by Sally Edwards, is one of the most popular books on triathlon training for women. I encourage you to read it. You can purchase the book or track it down in your local library. The Woman Triathlete, by Christina Gandolfo, is another top women's triathlete book.
2. The Danskin Women's Triathlon series, as well as the Iron Girl series represent the growing interest in women's triathlon events.
3. When it comes to gear, there are all sorts of women's-specific tri apparel and gear ranging from cycling products to wetsuits; from triathlon bikes, to running shoes; and all things triathlon. Take some time and investigate the options.
4. For the serious female triathlete there are also women-only triathlon camps.
5. Be aware also that you will want to consider how your overall triathlon training plan needs to reflect your unique needs as a female triathlete, including nutrition, and common injuries.
 
I know what you're thinking, "Jim, that's a lot of stuff for a newbie to absorb."
Triathlon Training Tips For Women (And Men)
Triathlon does cover a wide range of considerations because it encompasses 3 sports: swimming, cycling, and running. When it comes to apparel, gear, and matters of training, each area has its own needs and challenges.
Here are some tips to jump-start you on a triathlon training plan. First, visualize triathlon training in the shape of a triangle. At the top point of the triangle you should have an identified triathlon event you have the goal to participate in. Let's say you've got a triathlon coming up in October. In this triathlon you must swim ¼ of a mile, bike 12 miles, and run 3.1 miles.
The bottom of the triangle is the widest part of the triangle and symbolizes a period of time when you build endurance and stamina in each of the 3 areas: swimming, biking, and running.
Your endurance base should exceed the distances of your actual race. For example, if you can swim 3/4ths of a mile, bike 20 miles, and run 5 miles, you have a good base for your event in October.
As you move up the triangle from your endurance base, you add intensity training — which means swimming, biking, or running at intervals that are higher in intensity and speed.
The next aspect of training would be to combine two elements in one training session, such as a swim/bike session and a bike/run session. The week before your event, you will want to decrease your volume of training so that you are well-rested and in peak condition for your event.
Along with your training sessions, you need to be sure your diet contains enough carbohydrates and water to keep you fueled and hydrated well.
You can do it!
Women of all ages, sizes, and stages of life successfully train and compete in triathlons. Find one or two other women who will train and compete with you. Crossing that finish line will be a great accomplishment, and something you'll never forget.
I'm over 40 years old, but I don't give up easily. It wasn't too long ago that I was exploring the idea of doing my first triathlon. If I can do it, you can too! I'm proof that with a little determination and training, you can get a great deal of fulfillment participating in marathons, triathlons… even ultramarathons.