This post may contain affiliate links. If you buy thru these links, we may earn a commission at no additional cost to you.
---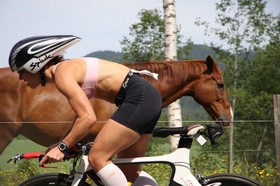 There is always room for improvement.
This post identifies a few of the latest high-tech bike gear options for triathletes, including:
triathlon bikes
shoes
socks
LED lights
Lace locks
Gel bottles
Look 596 Triathlon Bike
One of the most important gear options for a triathlete is their bike.
The new Look 596 triathlon bike boasts of being one of the most technology advanced tri bikes available.
In a nutshell, Look designers discovered that the key to speed is creating as much space as possible in the frame.
One way the frame was designed to achieve this was increasing the gap between the wheels and the stays and fork.
This design definitely raised some eyebrows and stirred up some controversy, but according to Look research and testing, this bike can shave 30 seconds over a flat 1-hour race at 40km/h.
Other key components to the Look 596 design include:
A mono-blade fork system, which excludes a steer-tube and creates an razor-thin aerodynamic front end
Shimano Dura-Ace derailleurs, brakes, and shifters
The stem pivots up and down, and can adjust to 4 lengths, allowing for nearly perfect fit and positioning
One-piece carbon crankset (adaptable for power meter), which Look claims has the highest stiffness-to-weight ration in the industry
The cost:  $5,499
Here's a rather detailed review of the Look 596 triathlon bike.
Sidi T2 Carbon Composite Triathlon Shoes

Close behind in bike gear importance is shoes.
The Sidi T2 Carbon Composite Women's Triathlon Shoe is considered one of the best currently on the market.
The shoe is considered the fastest transition shoe available. The carbon composite sole balances power transfer and foot health for the high-performance, high-mileage cyclist.
Bicycling magazine says this about the shoe:
The T2's carbon composite sole reduces energy-sapping flex and helps eliminate your chances of developing the foot pain that bendy soles can cause. The narrow heel cup accommodates a woman's smaller foot volume, and the shoe is built on a women-specific last. The tri-specific upper has a top strap that opens away from the drivetrain.
Some of the features of the Sidi T2 carbon composite shoe include:
Millennium 2 sole matched to a women specific last
Triathlon specific design is lined for sock free comfort
Tongue less design for easy on, easy off
Handy heel loop for faster transitions
Opposing pull straps for on the bike control while adjusting fit
Half sizes
Expect to pay about $280
DeFeet Aireator Socks
With your cycling shoes, you may decide to wear socks.
DeFeet Aireator Socks are high-tech cycling socks.
Some key features:
These socks have a mesh top that promotes quick drying and ventilation.
The interior of the sock is made of Coolmax to wick the moisture away from your skin.
The toe and heel are made of Cordura Nylon for extreme durability and abrasion resistance.
The super-stretchy "Stay-Fast" cuff never sags, even during high-impact events.
Expect to pay $8.95 for these socks.
Despite all these features, the sock remains thin and low-bulk, keeping your shoe fit the same as it would be without a sock. The Aireator quickly became the industry standard for cycling socks.
Along with the high-tech build of the sock, the Aireator comes complete with a knitted in design or logo. Because the design is knitted into the sock, you can be assured that it will never fade away or be washed off.
There are a whole bunch of unique styles to suit your personality, so have fun and express yourself!
More High-Tech Triathlon Gear

There are all kinds of high-tech triathlon gear.
Here are a few final things you may have never thought of:
Brooks NightLife Magnetic LED Light – $15 
Shorter days mean you're likely to find yourself training in the dark during winter. This magnetic light, the size of a small bar of soap, has 4 bright red flashing dots against a reflective base. It attaches to just about any shirt, jacket or pack and stays put even over rugged terrain. Really.
Lace Locks – $4.99
Can't beat the utility of these for the price. Imagine not having to tie your shoe laces. Just one quick zipping motion and you are off. If both your bike and run shoes have laces, this might be a minute saved for one dollar. That's as much as you might save from swimming 10% faster. Not bad, eh?
Gel Bottle – $15
The problem with gels is that they come in packages. So when you want some gel, you have to use up the entire gel pack at once or throw half of the stuff away. The solution is a small squeeze bottle with a nozzle — like a water bottle. You carry it in a gel holster or velcro it to your bike. Before the race, you fill 2-3 gels into one of these and then you can take as little gel at a time as you like. Another advantage of the gel bottle: it helps you avoid sticky gel fingers.
I'm over 40 years old, but I don't give up easily. It wasn't too long ago that I was exploring the idea of doing my first triathlon. If I can do it, you can too! I'm proof that with a little determination and training, you can get a great deal of fulfillment participating in marathons, triathlons… even ultramarathons.