This post may contain affiliate links. If you buy thru these links, we may earn a commission at no additional cost to you.
---
There are a lot of options in terms of gear accessories for your bike so you can carry your nutrition-related items during triathlon training and competition.
In a nutshell, during triathlon training and competition — especially long distance triathlons — the major re-fueling time is during the biking leg. Obviously, you can't re-fuel during the swim, and were you to wait for the run to take in nutrition, it would be too late.
A critical time for re-fueling is on the bike, and you need a good way to carry all of your nutrition and hydration supplies.
Here are some ways to carry those items with you on the bike…
Cycling Jersey Pockets
The first aspect of such gear is your biking apparel.
When doing your bike training, you can use the pockets on the back of your cycling jersey in warm weather (or the front of your cycling jacket or vest in cooler weather) to store nutrition items such as energy gels, tablets or bars.
Do You Carry Things In Your Cycling Shorts?
At first, I found it to be awkward to try and fish items out of my back pocket as I was biking, and even sometimes had problems getting the zipper down on my vest.
As a result, I got in the habit of putting my energy gels underneath my bib shorts, tucked just under the front of my shorts on my leg. The snug leg band kept the gels secure in that spot, and they were more easily accessible for an easy grab.
Of course this only really applied to smaller items like gels, and not so much larger items like an energy bar. However, I did find I could tear a Powerbar in half, put it in a plastic baggie, and it would also fit underneath my bibs on my leg.
Pockets, Pockets, Everywhere
Take the time to investigate where all your apparel pockets are and make good use of them. If necessary be creative. Do what works for you.
Most triathlon tops specifically made for women and men have side stash pockets for you to store smaller sports nutrition items.
There are many different styles of men's triathlon tops and women's triathlon tops to choose from.
Saddle Bags For Your Bike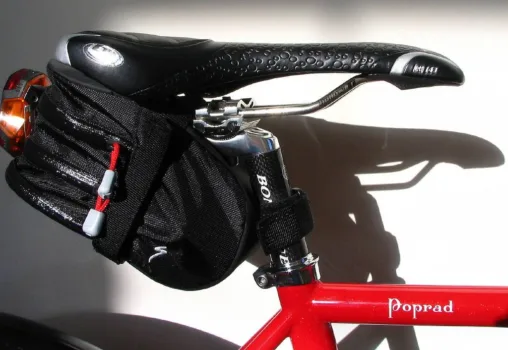 For the bike itself, there are many different kinds of saddle bags in which you can store sports nutrition.
Saddle bags are particularly helpful for long training rides or longer distance triathlons such as the Ironman, when it is likely you are going to get off .your bike.
The size of saddle bag you choose determines how many sports nutrition items you can get into it.
Saddle bags normally contain your spare tube, tire repair kit, and other bike tools you choose to carry.
I normally store energy bars or solid food, and a baggie of sports drink mix in my saddle bag for long rides. On one of my routes there is a particular place I stop to use the restroom, eat something, and mix up another bottle of my energy drink.
Where To Attach A Saddle Bag
Typically, saddle bags attach to your bike in a couple of spots:
under your seat
on your front or back tube triangle
right behind your handle bars
on your aerobars
It's just a matter of preference and what works for you.
Ways To Carry Liquids On The Bike
When it comes to carrying the liquids on the bike, there are also a few different options.
First, there are options with water bottles. You can affix 2 water bottle cages on your bike — one on each down-tube. Improvements are regularly made to maximize the bike cage and bottle concept.
There are also rear-mounted hydration products that could also hold 2 bottles.
In terms of water bottles, you could carry 4 on your bike — 2 on your down-tubes and 2 on the back!
There are also hydration systems that attach to the center of your aerobars. There are many options when it comes to triathlon aero bottles, including a dual chamber hydration system with 2  independent reservoirs to hold 2 different drinks.
Then, there are body-mounted hydration systems that you wear, like Camelbak hydration packs and Racepak hydration vests.
It's not easy to keep up with all the hydration and nutrition gear accessories that can be utilized on your bike.
Hopefully this post opens several options for you to explore further. If you use any of the above mentioned products, let us know what your experience has been and what has worked well for you as a triathlete.
I'm over 40 years old, but I don't give up easily. It wasn't too long ago that I was exploring the idea of doing my first triathlon. If I can do it, you can too! I'm proof that with a little determination and training, you can get a great deal of fulfillment participating in marathons, triathlons… even ultramarathons.